Dental implants are the standard surgical procedure for tooth replacement. They are implanted into the bone to provide permanent, support for crowns and dentures.
Why consider dental implants?
Dental implants are artificial teeth that are placed into the jawbone of the mouth. The most common reason is why people go for dental implants because of missing teeth. The main benefits are for them who struggle with confidence and self-esteem of not having healthy teeth or having an amazing smile.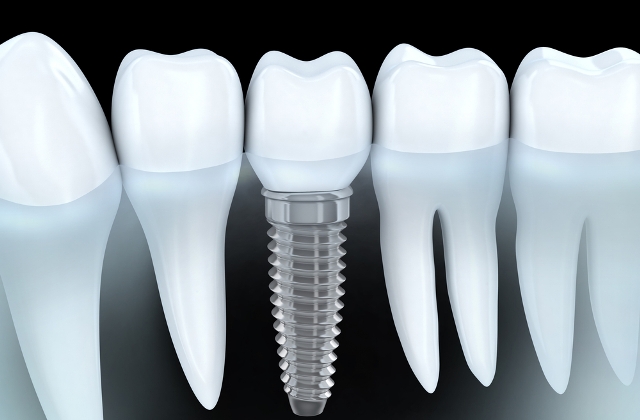 Dental Implant Therapy
A dental implant is the placing of the artificial tooth root into your jaw to hold a replacement tooth or bridge. It's an optional treatment for people who have lost a tooth or teeth due to periodontal disease, an injury, or something else.
Benefits of Dental Implants: 
Replacement of Missing Teeth
Restoration of Your Natural Smile
Maintaining of Youthful Appearance
Stoppage of Bone Loss
Full Mouth Dental Implants
If you have lost all of your teeth, an implant-aided full bridge or full implants can restore them. As we happen to be the best dental implant center in Chennai, we offer full mouth dental implants in Chennai and full mouth implants Nungambakkam that involves the placing of the artificial tooth root into your jaw which can hold a replacement tooth or bridge.
Advantages
There are several advantages over other teeth replacement options-to look and function like natural teeth, implant-aided full bridges or dentures are designed to be long-lasting. They are more comfortable and stable than conventional implants, allowing you to retain more natural biting and chewing capacity. As dental implants have brought a new dimension to modern dentistry, we provide superb dental implant facility to be recognized as the best dental implant center in Egmore.
Tooth implant cost in Chennai depends on many factors such as:
The complexity of the implant site
The medical condition of the patient
Standard of the Art facility
Dental Implant brand
Standard of the implant team
Dental Implants have almost changed the face of dentistry over the last two decades or so. As far as dental implants are concerned, it not only involves scientific discovery, research, and understanding but also the application of clinical practice. The implant dentistry involves competency in planning, surgery and tooth restoration. It's more of an art, experience and medical science. We, the leading dental implant in Chennai,  have a bunch of well-trained and well-experienced dentists who carry out this procedure delicately and successfully.